Synopsis of cost- TOGAF certification – 2023
The Open Group Architecture Framework (TOGAF)
TOGAF is a corporate framework that aids businesses in defining their goals and lining up them with architecture objectives around corporation software development. The TOGAF 9.2 is an updated version of TOGAF 9.1 which is responsible for providing revised guidance, correcting errors, and tools for revising the document structure and eliminating old content. Important features added to this updated version comprise of latest Business Architecture and the Content Metamodel. All these updates made TOGAF easier to operate. The TOGAF standard 9.2, is utilized globally by noted companies in order to enhance their business efficiency. This certification has produced more than 87000 Enterprise Architects and trainers to date. These professionals are working worldwide and demonstrating their knowledge of the framework.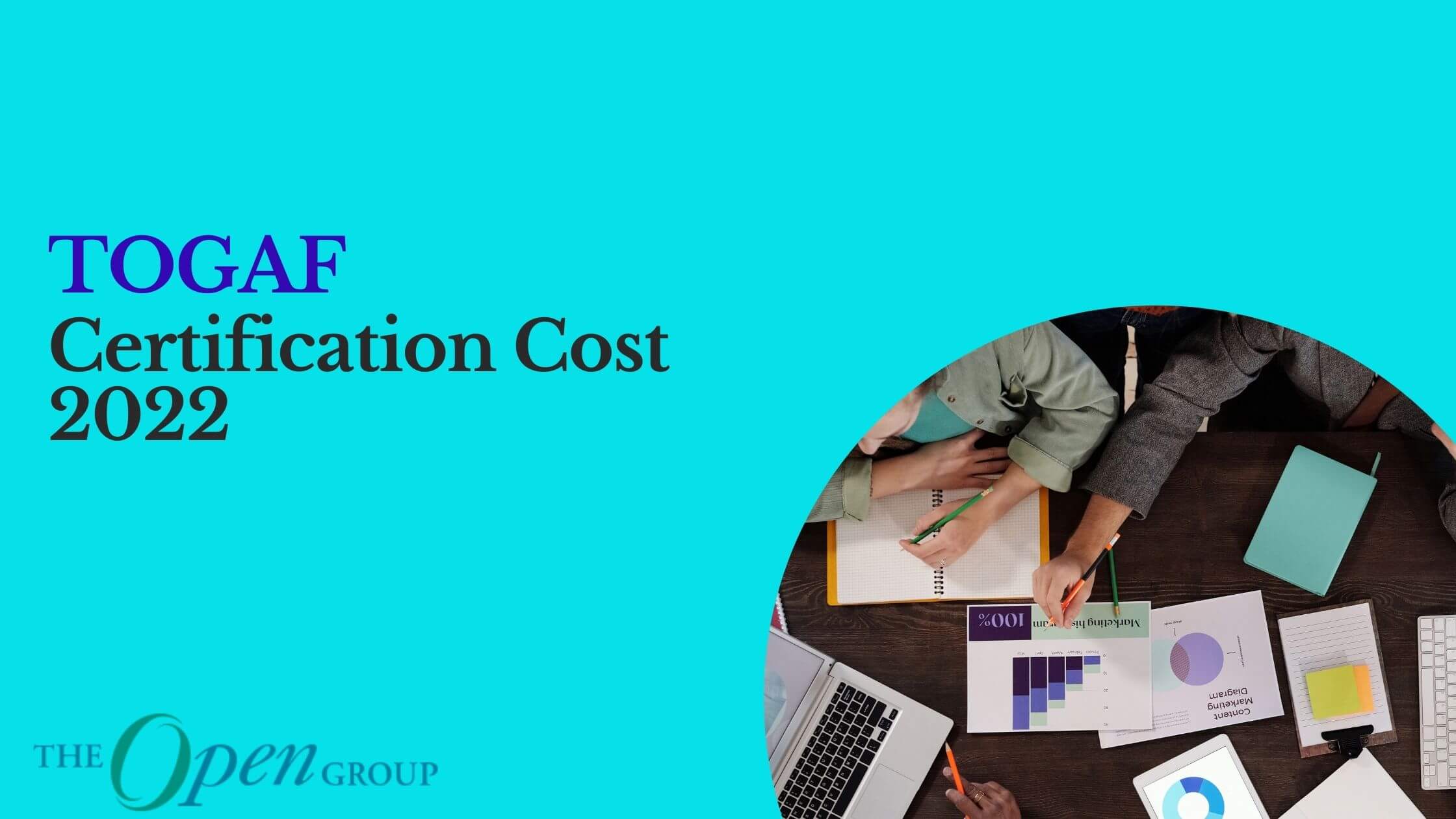 TOGAF Certifications:
TOGAF credentials give defining path to professional growth and credibility to employers. Salient features of this certification are:
It is a well-calculated and brilliant move toward your career.

This certification is a globally acknowledged, vendor-neutral, trusted, and portable credential

Globally noted corporations used these certifications to certify a basic body of core knowledge about the methodology and framework
It provides certifications in the following fields:
TOGAF Standard

TOGAF Business Architecture

TOGAF Integrating Risk and Security

TOGAF Essentials
TOGAF Certifications Cost:
The exam fees is included in the course cost of all TOGAF training programs. A voucher is provided to the candidates in order to appear in the exam. If you don't have a fees voucher then no need to get worried you can pay via credit card. But if you're the one who don't purchase a course. Exams cost vary from region to region according to exchange rate and additional taxes applied. Here is the list of exams fees:
| | |
| --- | --- |
| Examination | Exam Fee |
| TOGAF® 9 Part 1 English | USD $360 |
| TOGAF® 9 Part 2 English | USD $360 |
| TOGAF® 9 Combined Part 1 and 2 English | USD $550 |
| TOGAF® 9 Part 1 Brazilian Portuguese | USD $230 (in Brazil), USD $360 (Worldwide) |
| TOGAF® 9 Part 2 Brazilian Portuguese | USD $230 (in Brazil), USD $360 (Worldwide) |
| TOGAF® 9 Part 1 French | USD $360 |
| TOGAF® 9 Part 2 French | USD $360 |
| TOGAF® 9 Part 1 Latin American Spanish | USD $360 |
| TOGAF® 9 Part 2 Latin American Spanish | USD $360 |
| TOGAF® 9 Part 1 Simplified Chinese | USD $360 |
| TOGAF® 9 Part 2 Simplified Chinese | USD $360 |
| TOGAF® 9 Combined Part 1 and 2 Simplified Chinese | USD $550 |
| TOGAF® Business Architecture Part 1 | USD $315 |
South Africa Pricing for Single Part Exams
The following exams have a fee of USD $230 for residents of South Africa taking exams in South Africa: OG0-041, OG0-061, OG0-091, OG0-092, OGA-031, OGA-032, OGD-001, and OGAA-001
Frequently Asked Questions.
1. Is TOGAF still relevant in 2023?
Some of its parts are obsolete now but TOGAF is still relevant in 2023. The enterprise has developed a strategy regarding TOGAF. Moreover reports suggested that about 80% of leading organizations adopt TOGAF as a framework. Companies like HP and Oracle are already using this platform.
2. Is TOGAF hard to pass?
Nothing is easy. And when it comes to exams they are the test of your understanding and capabilities. Exams are complex but not hard. Their level of complexity determines your level of knowledge and understanding. TOGAF exam is also not hard but complex. This exam requires your full attention and careful approach to execute it properly and to clear it. Dumpsgate is providing Best exam dumps for TOGAF exams. These pdf dumps will give you an overview of the questions that can be asked in the exam.  All you have to do is to purchase exam dumps from Dumpsgate and read them thoroughly. Dumpsgate is providing questions with correct answers and proper explanations.
3. Is TOGAF free?
Everything has to cost so is the case with TOGAF. It is also not free. Candidates have to pay for the training course and also for the exam. Exam fees varies from region to region.
4. Is the TOGAF exam open book?
Yes, it is an open book exam. This exam manual is provided in the form of a pdf. By using this manual candidates can understand the scenarios and answer the questions.
5. Is TOGAF Part 2 multiple choice?
TOGAF part 1 exams include 40 multiple-choice questions. Only those candidates will qualify for this exam who acquire 55% marks. While TOGAF part 2 exams comprises of 8 complex scenario-based questions. This exam is an open book exam and the passing percentage is 60%.
6. What is the difference between TOGAF and ITIL?
| | | |
| --- | --- | --- |
| Parameter | TOGAF | ITIL |
| Stands for | The Open Group Architecture Framework | IT Infrastructure Library |
| Developed in | 1995 | 1980's |
| Focus | Enterprise Architecture | Service Management |
| Deal with | Business Architecture | IT services |
| Delivers | All for developing and monitoring IT solutions | Details for perfectly delivering IT services |
7. How do I give TOGAF exam?
Go to Pearson VUE Customer Service in order to get all the relevant information about exams registration, exams rescheduling, and results. Also, Visit the Open Group Examinations page for details and general information of individual exams.
8. What four domains does TOGAF deal with?
In order to achieve its goal, TOGAF deals with described four architectural domains:
Application

Business Architecture

Data

Technical
9. How do you beat TOGAF Part 2?
Most of the candidates hope to pass their exam on their first attempt. For this, you should have complete knowledge about exams, what kind of problems can be asked in the exam, and also have proper content for exam preparation. Most aspirants have very less time and resources to qualify for these exams. But you don't need to get worried about any of these problems. Dumpsgate is providing you with the best TOGAF OG0-092 exam dumps that not only include practice pdf questions but is also providing you with accurate answers with proper explanations. All you have to do is to take some time and go through our TOGAF brain dumps and prepare for your exam. After using our exam pdf questions you will be able to pass your TOGAF certification exams with flying colors.
10. What is the TOGAF exam cost in India?
The TOGAF Part 1 exam cost in India is 27000 INR. While the TOGAF Part 2 exam cost in India is also 27000 INR. So collectively you have to pay 54000 INR for this credential. 
11. What is the TOGAF exam cost in the USA?
The TOGAF exam cost in the USA is $320.